NEET 2021 preparation tips for droppers
NEET 2021 preparation tips for droppers - "If you can dream it, you can do it." a quote by Walt Disney. Keeping that in mind every aspirant has to work until they get the desired result. Every year lakhs of students appear for the National Entrance-cum-Eligibility Test (NEET) to get admission to under-graduate medical seats in India. Due to the ratio of available seats for medical admission through NEET and students applied for it, it is not mandatory that every aspirant will qualify for the exam. There are chances where aspirants secure the NEET cutoff 2021 but not get a good rank, dropping one more year for NEET preparation is the only path they see.
Stay up-to date with NEET News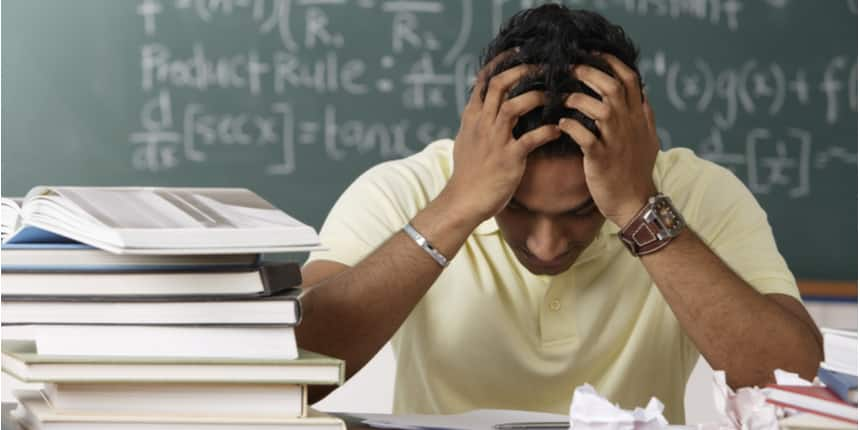 However, by working on what left in the previous session of NEET, aspirants can prepare well and droppers can ace the exam with ease. The preparation strategies of NEET 2021 for droppers will be almost different from the ones who are attempting it for the first time. As a dropper, aspirants should take advantage of the fact that they will have a better idea than most aspirants about their strengths and weaknesses. By thinking of their dream to become a doctor and following the tips and strategies during the preparation of NEET 2021, droppers can get a better result. Aspirants seeking NEET 2021 preparation tips for droppers can go through the article below to know more details about it.
NEET preparation tips for droppers
Every aspirant who is a dropper or has attempted for NEET previously should be passionate about the goal during the entire journey of NEET 2021 preparation. As motivation and dedication for NEET 2021 is a must, to crack the exam and get admission. The kind of pressure on a dropper for NEET is unimaginable but the positive attitude will a lot to move further. Aspirants can go through the strategies which a dropper can go through to get a better NEET result 2021.
Analyze what went wrong?
"Analysis is the art of creation through destruction." a saying by P.S. Baber. The first and primary NEET 2021 preparation tips for droppers is to analyze what went wrong last time. Make a proper note out of it and work on what went wrong. Aspirants must note that their best teacher is their last mistake. Try to learn from the mistakes without wasting the precious time of NEET preparation on thinking about the last attempt which went wrong.
While the analysis, aspirants should be honest with themselves because they only know their weakness and strength other than anyone. Having a proper list of what went wrong during the last NEET attempt. Try to overcome that one by one and during NEET 2021 preparation, droppers should keep one thing in mind that they don't leave any stone unturned.
Fix up a target for NEET 2021
Aspirants can't hit a target if they don't know what it is? Fixing up a target during NEET 2021 preparation for droppers means they have to aim for the desired score of what they want to get and work accordingly. Always aim for a high during the preparation of NEET, as aiming high will boost aspirants to do the hard work. With regular practice and proper preparation, aspirants can achieve any target score of NEET 2021. While fixing up a target NEET 2021 scores, a dropper can analyze the cutoffs of their dream medical colleges, in which they want to get admission.
Prepare for NEET 2021 with new strategies
As the droppers are familiar with the NEET syllabus and pattern of the exam, they have to prepare themselves with new strategies. After setting a target score, as aforementioned for themselves, aspirants have to devote half of the day to studying for NEET 2021. This will help them to formulate a strategy and study smartly. Below are some of the strategies which aspirants can use for NEET 2021 preparation. However, aspirants must note that they have to prepare as per their comfort level because every aspirant has their own way of studying.
Begin with Biology and one other subject simultaneously.

Start studying your strongest topics with the most weightage. This way you will cover more topics in less time.

Read NCERT thoroughly for NEET 2021. Underline the important facts with a highlighter and make notes simultaneously.

After completing NCERT, start reading extra study material available in the form of books, and preparation websites. Also, make notes from these books.

For Biology, try to understand diagrams by heart to understand a topic. Pictures help you retain the information in an effective manner. Diagrams are an important factor for NEET preparation.

For Physics, solve the maximum number of questions possible. Also, create a chapter-wise sheet that comprises all formulas and laws discussed in the chapter.

For Chemistry, learn diagrams and chemical equations by heart. After completing every chapter, create a sheet for chemical equations and formulas to be used in solving the questions.
Practice problems as much you can!
Aspirants are advised to practice the NEET 2021 problems regularly. By practicing the previous year's questions of NEET, aspirants can easily know the level of questions and structure of the exam. Practice makes aspirants not just perfect but also makes it permanent. So, the more aspirants practice the better they can perform on NEET 2021 exam day.
"For the things we have to learn before we can do them, we learn by doing them." a quote by Aristotle. So, practicing NEET 2021 questions problems regularly will be an effective way of NEET preparation. Attempting the paper and analyzing it with full honesty will give students exposure to questions of varying difficulty levels and in topics, they are lacking behind. The NEET droppers can work on it and strengthen their weaknesses.
Candidates can use the below-mentioned points and solve past year question papers.
To download NEET previous year questions papers PDF for free: Click here
Avoid any kind of negativity during NEET preparations!
The biggest challenge for NEET 2021 is to remain positive and focused on their preparation. The drop year may give birth to unnecessary comparisons with friends and relatives. Never compare with others. Aspirants especially the droppers of NEET 2021 are advised to avoid any kind of negativity as they are the greatest destroyers of self-confidence and self-esteem. Try to surrounded by the people who bring out the best during this crucial NEET 2021 preparation. Try to get some constructive suggestions and utilize them as revision strategies during the NEET preparation.
| | |
| --- | --- |
| Sl No. | Tips |
| 1 | Meditate regularly |
| 2 | Have a balanced diet |
| 3 | Take a proper rest |
| 4 | Spend family time to stay positive |
Health need not be neglected!
In the anxiety and pressure to crack the NEET 2021, the most primary concern but always neglected by aspirants is health. Aspirants want to give as much they can by not caring about their health which might create problems. Candidates should aware of the fact that without mentally fit or healthy they cant attempt the questions which are known to them and can be easily solved. So, without considering health as a primary concern. Aspirants are advised to take care of their health during. Parents can also help their children during the NEET preparation by taking care of their health.
Also Read -
Frequently Asked Question (FAQs) - NEET 2021 preparation tips for droppers
Question: How many hours should a dropper study for NEET?
Answer:
Aspirants are advised not to do quantitative preparation but focus on qualitative NEET preparation.
Question: Is the NEET 2021 tough?
Answer:
The difficulty level of the NEET exam can't be speculated but by seeing the past year trends the question paper is of standard difficulty level.
Question: Do or die chapters for NEET 2021?
Question: Has any dropper topped NEET?
Answer:
Yes, many toppers of NEET have attempted the medical entrance test more than one time
Question: Can I crack NEET with self study?
Questions related to NEET
Showing 110679 out of 110680 Questions