Government MBBS seats through NEET 2023 – NEET UG is the single largest medical entrance exam. Every year, lakhs of candidates appear in the exam. The high fees in private medical schools lead aspirants to seek government-run medical seats through NEET. Aspirants willing to secure a seat in government colleges through NEET 2023 can check the seat matrix for the same below.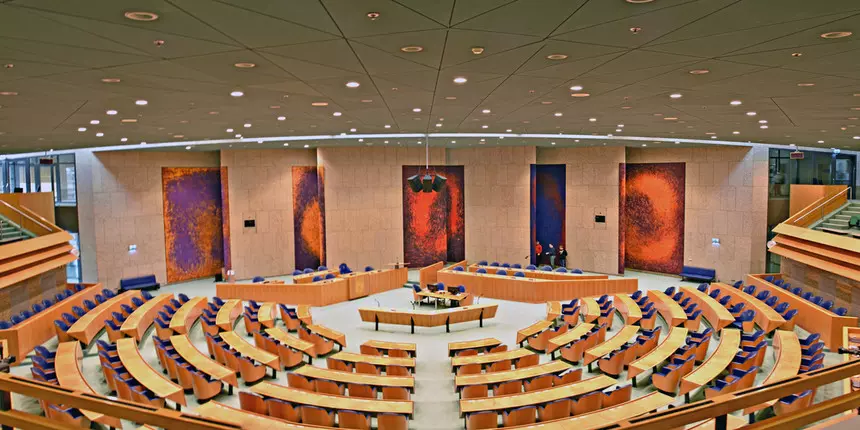 Government MBBS seats through NEET 2023
The NEET expected cutoff is vital for students to know to analyse their chances of getting into government MBBS seats through NEET 2023. Over the past year, new MBBS seats in 2023 are also being added with the opening of medical colleges. Careers360 offers a breakdown of the total medical seats available in India based on NEET 2023 scores.
For aspirants searching for how many seats are there in NEET, the medical entrance test offers 1,09,048 MBBS, 27868 BDS, 52,720 AYUSH, 603 BVSc, and AH seats. From the data provided by MCI and the Ministry of Health and Family Welfare (MoHFW), the figures for total medical seats in India have been compiled. A total of 48012 MBBS seats are offered in 322 government medical colleges. The complete list of government MBBS seats through NEET in India can be check by the candidates appearing for NEET UG 2023.
In consultation with the Board of Governors (BoG) in supersession of the MCI, MoHFW has earlier informed that 10% of total MBBS seats in India in all government medical colleges will be reserved for economically weaker sections (EWS) for admission to undergraduate courses through NEET UG 2023.
NEET UG 2023 data suggests that Maharashtra, Gujarat, Karnataka, Tamil Nadu, Andhra Pradesh, and Telangana have the highest number of MBBS seats at their government medical colleges. A total of 5200 additional seats in each state will increase the chances of candidates being accepted. Here's a list of all the government colleges and MBBS government seats offered through NTA NEET 2023 in every state of India.
Also read:
Total MBBS seats in India
Aspiring medical professionals from all corners of the country appear for NEET UG to pursue their dreams of becoming a doctor by securing an MBBS seat in medical college. The total MBBS seats in India change every time. Each year, the landscape of medical education is moulded by government policies, and the establishment of new medical colleges increases the total MBBS seats in India in 2023. For aspirants who want to know on how many MBBS seats are there in NEET, as per the latest NMC data, there are 109048 MBBS seats in 707 medical colleges.
NEET 2023 total government seats for MBBS
Name of the State/UT

Government Colleges

Government Seats

Andaman & Nicobar Islands

1

100

Andhra Pradesh

13

2485

Arunachal Pradesh

1

50

Assam

9

1150

Bihar

12

1515

Chandigarh

1

150

Chhattisgarh

8

965

Dadra & Nagar

Haveli

1

150

Delhi

8

1247

Goa

1

180

Gujarat

18

3700

Haryana

5

710

Himachal Pradesh

7

770

Jammu & Kashmir

9

1047

Jharkhand

7

680

Karnataka

21

3150

Kerala

10

1555

Madhya Pradesh

14

2180

Maharashtra

29

4825

Manipur

2

225

Meghalaya

1

50

Mizoram

1

100

Orissa

9

1375

Puducherry

2

380

Punjab

5

800

Rajasthan

17

3055

Sikkim

0

0

Tamil Nadu

38

5225

Telangana

11

1840

Tripura

1

125

Uttar Pradesh

35

4303

Uttarakhand

5

700

West Bengal

20

3225

Total

322

48012
*The list of colleges given above is taken from NMC official website and 2022 data. It is subject to change (additions or deletion of colleges/institutes) by relevant authorities.
NEET 2023: Government MBBS seats - Year-wise Analysis
| | | |
| --- | --- | --- |
| Year | Government Colleges | MBBS Seats |
| 2017-18 | 237 | 31483 |
| 2018-19 | 253 | 33893 |
| 2019-20 | 279 | 42222 |
| 2020-21 | 289 | 43435 |
| 2022-23 | 322 | 48212 |
NEET 2023 government MBBS seats
There are two categories of total MBBS seats in India government medical colleges - AIQ and state quota. A maximum of 15% of seats are reserved in every MBBS government college for All India Quota (AIQ) seats, for which the Medical Counselling Committee (MCC) will conduct counselling. As for the remaining 85%, state quota seats will be allocated to domicile candidates in that state if they fulfill the eligibility criteria. Aspirants must meet NEET cutoff 2023 percentile to be considered for seat allocation.
In the following table, we present the breakdown of the number of government MBBS seats through NEET into AIQ and State Quota. This table also total MBBS seats in India government available at the two Central Universities (DU and AMU), for which the respective university rules will apply.
Government MBBS Seats through NEET (For AIQ)
State/UT

MBBS

Total Colleges

Total Seats

Andaman & Nicobar

1

15

Andhra Pradesh

12

285

Assam

6

108

Bihar

9

142

Chandigarh

1

15

Chattisgarh

5

81

Daman & Diu

(Not applicable)

(Not applicable)

Delhi

6

135

Goa

1

22

Gujarat

6

161

Haryana

5

88

Himachal Pradesh

5

75

Jammu & Kashmir

Doesn't participate

Doesn't participate

Jharkhand

3

45

Karnataka

18

412

Kerala

9

194

Madhya Pradesh

6

122

Maharashtra

15

443

Manipur

2

30

Meghalaya

1

8

Orissa

5

126

Pondicherry

1

22

Punjab

3

75

Rajasthan

8

220

Sikkim

(Not applicable)

(Not applicable)

Tamil Nadu,

24

471

Telangana

7

165

Tripura

1

15

Uttar Pradesh

15

288

Uttarakhand

3

52

West Bengal

14

314

Total

192

4,129
Government MBBS Seats through NEET (State Quota)
State/UT

MBBS

Total Colleges

Total Seats

Andaman & Nicobar

1

85

Andhra Pradesh

12

1,615

Assam

6

612

Bihar

9

805

Chandigarh

1

85

Chattisgarh

5

459

Daman & Diu

(Not applicable)

(Not applicable)

Delhi

3

341

Goa

1

128

Gujarat

6

912

Haryana

5

498

Himachal Pradesh

5

425

Jammu & Kashmir

3

400

Jharkhand

3

255

Karnataka

18

2,336

Kerala

9

1,099

Madhya Pradesh

6

691

Maharashtra

15

2,511

Manipur

2

170

Meghalaya

1

45

Orissa

5

714

Pondicherry

1

124

Punjab

3

425

Rajasthan

8

1,247

Sikkim

(Not applicable)

(Not applicable)

Tamil Nadu

24

2,670

Telangana

7

935

Tripura

1

85

Uttar Pradesh

15

1,632

Uttarakhand

3

294

West Bengal

14

1,780

Total

192

23,378
Government total medical seats in India through NEET 2023 (In Central Universities)
State/UT

MBBS

Total Colleges

Total Seats

Uttar Pradesh

(BHU & AMU)

2

234

Delhi

(DU)

3

490

Total

2

724