How to Prepare for NEET Chemistry
How to Prepare for NEET Chemistry– With less than a year for the exams, preparation for NEET Chemistry can be a bit demanding. Medical UG aspirants undergoing NEET Chemistry preparation must, therefore, learn all the nuances of it. The NEET Chemistry syllabus comprises an equal distribution of questions from both Class 11 and 12. Preparation for NEET Chemistry should, therefore, be started as early as Class 11. The NEET Chemistry section contains 45 questions mounting to a total of 180 marks. It is essential that candidates obtain a good score in NEET Chemistry section, in order to secure a good rank in the NEET UG examination. Candidates preparing for NEET Chemistry must have a good command over its various sections. The diversity of the syllabus requires candidates preparing for NEET Chemistry to be thorough with each topic. Candidates can check the article below for all the related information on how to prepare for NEET Chemistry such as important strategies, topper and expert insights and more.
Re-opened: NEET 2020 application form correction window available till May 31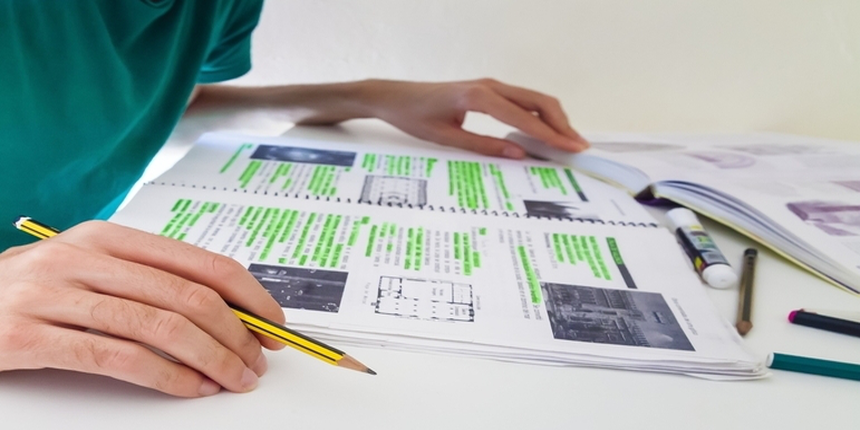 How to Prepare for NEET Chemistry - Strategies
Evaluate Your Syllabus: NEET Chemistry comprises three major sections of organic, inorganic and Physical Chemistry. Candidates dwelling on the prospect of how to prepare for NEET Chemistry should ideally start with a proper analysis of all the three sections. These three sections have been divided between the curriculum of Class 11 and 12. To be familiar with the topics, a detailed syllabus of NEET Chemistry has been provided below for reference.
NEET Chemistry Syllabus
Class 11

Class 12

Unit

Topic / Chapters

Unit

Topic / Chapters

I

I

Solid State

II

II

III

III

Electrochemistry

IV

IV

V

States of Matter: Gases and Liquids

V

VI

VI

VII

VII

VIII

Redox Reactions

VIII

IX

IX

X

X

Haloalkanes and Haloarenes

XI

XI

Alcohols, Phenols and Ethers

XII

XII

Aldehydes, Ketones and Carboxylic Acids

XIII

XIII

XIV

XIV

XV

XVI
Highlight the Important Topics: Candidates preparing for NEET Chemistry must have proper knowledge about the important topics in order to have a head start. The NEET Chemistry syllabus is vast, and thus, highlighting the topics that carry more weightage in the examination will help the candidates to prepare accordingly. Based on the analysis of previous year question papers, these following important topics of NEET Chemistry can be outlined.
Important Topics of NEET Chemistry
Physical Chemistry
Mole Concept

Stoichiometry

Atomic Structure

Thermodynamics

Redox Reactions

Electrochemistry

Solutions

Surface Chemistry

Equlibrium

Nuclear Chemistry

Chemical Kinetics
Inorganic Chemistry
Periodic Properties of Elements

Block Elements – d, f, p, s

Co-ordination Compounds

Chemical Bonding

Hydrogen Bonding
Organic Chemistry
Basic principles

Organic Compounds

Biomolecules

Polymers

Hydrocarbons
Write it Out: Aceing NEET Chemistry requires rigorous practice and efforts. Aspirants while preparing for NEET Chemistry should develop the practice of writing everything down. This goes a long way during the time of revision and also helps in remembering the details.
Refer the Best Books: NCERT acts as a prime factor when it comes to NEET Chemistry as a majority of the questions are based on it. Aspirants should familiarize themselves with every topic included in the syllabus and practice all the questions given so as to develop a firm concept base. Besides, NCERT candidates should also refer to the books mentioned below for practicing and refining their NEET Chemistry preparation.
Physical Chemistry by OP Tandon

ABC of Chemistry for Classes 11 and 12 by Modern

Concise Inorganic Chemistry by JD Lee

Dinesh Chemistry Guide

Practise books by VK Jaiswal (Inorganic), MS Chauhan (Organic) and N Awasthi (Physical)
Never Lose Practice: Daily practice should be an integral part of NEET Chemistry preparation. Be it the equations, numericals from thermodynamics/solutions or organic practice; practicing daily is the only key to be able to process it all.
Take Mock Tests Online: With NTA introducing online NEET exams, it is necessary for candidates to solve mock tests online so as to be able to manage the allotted time and get familiar with the real day exam scenario. Aspirants will have the option to practice at the online test centres to be set up by the NTA across the country. Taking up mock tests will help aspirants to be the best judge of themselves and also help in building their confidence.
Revise: The more you learn the more you tend to forget. Revision is the only key to help prevent this aspect. Schedule revisions after each topic has been dealt with. Aspirants in Class 12 should continuously keep revising the syllabus of Class 11 to ensure that every topic is still fresh in mind.
How to Prepare for NEET Chemistry – Topper Tips
Rohan Purohit, NEET 2018 AIR 2 shared his preparation strategy with Careers360 where he said, "Initially when I started my NEET preparation, Chemistry was the toughest for me, Organic Chemistry in particular. Organic Chemistry being an applicative concept, my teachers asked me to solve as many problems in order to solidify my concepts." Efficient practice helped Rohan obtain the perfect score 180 out of 180 in NEET Chemistry.
On a similar note NEET 2018 AIR 1, Kalpana Kumari who scored 160 out of 180 in the subject shared, "In Chemistry, I focused more on the Organic section". On the other hand NEET 2018 AIR 7, Krishna Ashish Agrawal said, "Inorganic in Chemistry section requires a lot of learning so I focused a lot more on that part". Krishna scored 165 out of 180 in NEET Chemistry.
Expert Insights on How to Prepare for NEET Chemistry
Expert Aakash Choudhary, Director of Aakash Educational Services, shares his views on how to prepare for NEET Chemistry where he says, "Chemistry is often regarded as the toughest subject by students. On the contrary, it is one of the easiest if you can develop an understanding at the basic level. This can be done by strengthening your concepts through elaborate revision of chapters and individual topics. Begin your preparation with 'Physical Chemistry' and treat each and every topic as a chapter in itself. Later, apply your concepts on MCQs and question banks. In 'Inorganic Chemistry', before starting a topic, look up to previous years' question papers to understand which are the topics from which the maximum questions are asked. Repeat the formula chart activity (include formulae of important chemicals and minerals) as done in physics and memorise them daily. Frequently revise topics such as coordination chemistry and p-block chemistry to ensure maximum retention. Keep on trusting NCERT as far as Inorganic Chemistry is concerned. Other topics demand a clarity of concepts. Here, you can take assistance from study materials for additional references. It might take extra effort but you must maintain your confidence and consolidate your concepts. Approach easier sections first and then move on to difficult portions".

Head of T.I.M.E Chennai and academic expert, Anand Nagarajan says, "In Chemistry, I always advise students to complete the topics of Physical Chemistry first while preparing for NEET. Read the concepts of Physical Chemistry from NCERT, and then test the understanding by practising questions from MCQs and question banks. For Inorganic and organic chemistry, make formula charts as was done for Physics and memorize the formulas and name reactions on daily basis. If any topic is taking extra efforts and time, skip it and approach the easier sections first".
How to Prepare for NEET Chemistry - Exam Pattern
Particulars

Details

NEET 2020 exam date

May 3, 2020


Mode of Examination

Offline

Duration of Examination

3 hours

Total Number of Questions

180 Questions

Sections

Physics – 45 Questions

Chemistry – 45 Questions

Biology – 90 Questions

Marking Scheme

+4 marks for each correct answer;

-1 mark for each wrong answer;

0 mark for each unanswered question

Maximum Marks

720 marks

Aggregate score calculation

Total number of correct answers X 4 – Total number of incorrect answers X 1

(Note: There are no marks for attempting of questions)
Questions related to NEET
Showing 82551 out of 82554 Questions