BAMS Cutoff 2023 - Gen, OBC, SC, ST
BAMS Cutoff 2023: The National Eligibility cum Entrance Test (NEET) is the single entrance exam on the basis of which admission to all the major UG medical courses in India is granted. MBBS is the first choice course, for every aspirant who is dreaming of a medical degree. However, pursuing a profession in medicine as a BAMS Doctor is also well-known.
Stay up-to date with NEET News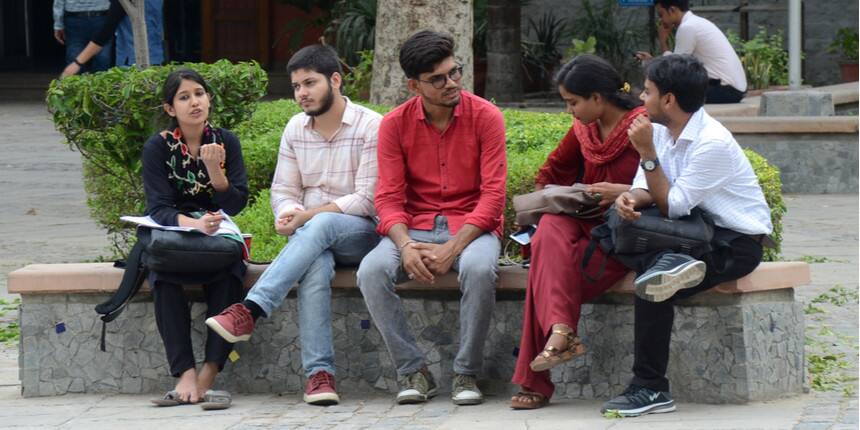 Due to the high level of competition for getting admission to MBBS seats, the NEET UG 2023 cutoff for MBBS is also high. While, students with average NEET scores, and without losing another year can opt for BAMS courses. In order to get admission in this AYUSH course, aspirants have to mandatory secure the BAMS cutoff 2023.
As per the latest update, the NEET BAMS qualifying cutoff of 2023 is the minimum marks required to pass the entrance exam. Whereas, the admission BAMS cutoff of NEET 2023 is the last rank at which admission is granted. The category-wise BAMS NEET 2023 cutoff percentile for the general category is 50th and for SC/ST/OBC it is 40th.
Qualifying for the NEET 2023 exam will open doors to all institutions offering BAMS seats, as well as MBBS, BDS, and BHMS programmes at all of the country's medical colleges.
BAMS Admission through NEET 2023 Cutoff
BAMS is a 5 and a half years duration course. It is an amalgamation of modern medicines along with traditional ayurvedic methods. The BAMS cut off for NEET and the minimum marks required for BAMS admission in NEET 2023 will assist you in selecting the best college based on your ranking.
NEET 2023 Expected Cutoff for BAMS - Category wise
| | | |
| --- | --- | --- |
| Category | BAMS cutoff | BAMS cut-off marks |
| General | 50th percentile | Soon |
| SC/ST/OBC | 40th percentile | Soon |
| General-PwD | 45th percentile | Soon |
| SC/ST/OBC-PwD | 40th percentile | Soon |
Also Read:
BAMS Admissions Process through NEET 2023
Admission to BAMS courses will be granted based on the NEET UG score and rank. As a result, students must pass the NEET exam administered by the National Testing Agency (NTA). The AYUSH Admissions Central Counselling Committee is responsible for allocating BAMS seats in Homeopathy institutes.
BAMS cutoff- Previous Years
The BAMS cutoff for government colleges is the minimum mark required in NEET for MBBS in a government college. Students can check the BAMS last year's cut-off for government medical colleges for general candidates in the table below.
BAMS Cutoff
| | | |
| --- | --- | --- |
| Actual College Name | Opening Rank | Closing Rank |
| Madan Mohan Malviya Government Ayurved College, Udaipur | 21530 | 24816 |
| Ch Brahm Prakash Ayurved Charak Sansthan, New Delhi | 24988 | 25438 |
| State Ayurvedic college and Hospital, Lucknow | 21536 | 25739 |
| Ayurvedic College and Hospital, Sampurnanand Sanskrit Vishwa Vidyalaya, Varanasi | 26485 | 27165 |
| Podar Ayurved Medical College, Mumbai | 27746 | 27767 |
| Dr Sarvepalli Radhakrishnan Rajasthan Ayurved University, Jodhpur | 25240 | 29190 |
| Government Ayurvedic College Hospital, Patna | 27727 | 30059 |
| SRM Government Ayurvedic College and Hospital, Bareilly | 23935 | 30985 |
| Rajiv Gandhi Government Post Graduate Ayurvedic College, Kangra | 27794 | 31281 |
| Tilak Ayurved Mahavidyalaya, Pune | 31412 | 31412 |
| Government Akhandanand Ayurved College, Ahmedabad | 29377 | 32398 |
| JB Roy State Ayurvedic Medical College and Hospital, Kolkata | 28977 | 32587 |
| Government Ayurved College, Vadodara | 32828 | 33370 |
| Rishikul Government PG Ayurvedic College and Hospital, Haridwar | 25632 | 33666 |
| Sheth JP Ayurveda College, Bhavnagar | 33605 | 34432 |
| Bundelkhand Government Ayurvedic College and Hospital, Jhansi | 31717 | 34499 |
| Government Ayurvedic College and Hospital, Patiala | 32918 | 35076 |
| Lalit Hari State Post Graduate Ayurvedic College and Hospital, Pilibhit | 32876 | 35233 |
| Sri Lal Bahadur Shastri Smarak Government Ayurvedic College and Hospital, Handia | 30872 | 35246 |
| Government Ayurvedic Medical College, Bengaluru | 35643 | 35853 |
| Government Ayurved College, Junagadh | 33241 | 36167 |
| Uttarakhand Ayurved University, Dehradun | 33120 | 36556 |
| Haridwar Ayurveda Medical College and Research Centre, Haridwar | 35061 | 36939 |
| MSM Institute of Ayurveda, Sonipat | 30684 | 37156 |
| Government Autonomous Ayurveda College and Hospital, Gwalior | 37371 | 37371 |
| Government Ayurved College and Hospital, Banda | 35264 | 37670 |
| Swami Kalyandev Government Ayurved College, Muzaffarnagar | 32221 | 38045 |
| Pt Khushilal Sharma Government Autonomous Ayurveda College and Institute, Bhopal | 29041 | 38486 |
| Gopabandhu Ayurveda Mahavidyalaya, Puri | 34889 | 38961 |
| Government Autonomus Dhanwantri Ayurveda College and Hospital, Ujjain | 37821 | 39850 |
| Shri Narayan Prasad Awasthi Government Ayurved College, Raipur | 36255 | 40079 |
| Government Autonomous Ayurved College and Hospital, Jabalpur | 31958 | 40632 |
| Government Ayurvedic College and Hospital, Guwahati | 33804 | 41200 |
| Government Ashtang Ayurved College, Indore | 38322 | 41363 |
| Dr BRKR Government Ayurved Medical College, Hyderabad | 36010 | 42464 |
| Government Ayurved College and Hospital, Nagpur | 34249 | 42603 |
| Ashtang Ayurved Mahavidyalaya, Pune | 41909 | 44089 |
| Pt Shivnath Shastri Government Autonomous Ayurved College and Hospital, Burhanpur | 39614 | 44286 |
| Government Ayurved College, Nanded | 42293 | 44567 |
| Government Ayurveda College and Hospital, Jalgaon | 36956 | 44668 |
| Anantha Lakshmi Government Ayurvedic Medical College, Warangal | 39235 | 44881 |
| Government Ayurved College and Hospital, Bilaspur | 35792 | 45918 |
| Government Autonomous Ayurveda College and Hospital, Rewa | 44113 | 46198 |
| Government Ayurveda Medical College and Hospital, Mysore | 35065 | 46626 |
| Rajiv Gandhi Ayurveda Medical College, Mahe | 31485 | 47168 |
| Government Ayurveda College and Hospital, Osmanabad | 46486 | 47621 |
| Government Ayurved College, Balangir | 39650 | 47812 |
| Government Ayurveda College, Thiruvananthapuram | 42744 | 48451 |
| Ayurved Mahavidyalaya and Seth R V Ayurved Hospital, Mumbai | 44846 | 49482 |
| Ayurved Mahavidyalaya, Nashik | 49035 | 50038 |
| Dr Nori Rama Sastry Government Ayurvedic College, Vijayawada | 39329 | 50425 |
| Shri Ayurved Mahavidyalaya, Nagpur | 45670 | 50563 |
| Kaviraj Ananta Tripathy Sharma Ayurved College and Hospital, Ganjam | 41116 | 50584 |
| Taranath Government Ayurvedic Medical College, Bellary | 51187 | 51824 |
| Government Ayurveda College, Kannur | 49618 | 52030 |
| Government Ayurveda Medical College and Teaching Hospital, Shivamogga | 49443 | 52169 |
| Late Vaidya Panchanan Gangadhar Shastri Gune Ayurved College, Ahmednagar | 51286 | 53802 |
| Government Ayurveda Medical College and Hospital, Nagercoil | 50750 | 53805 |
| Hubli Ayurved Seva Samiti's Ayurveda Mahavidyalaya and Hospital, Hubli | 53023 | 54794 |
| Vaidyaratnam Ayurveda College, Thaikkattussery | 53285 | 55339 |
| Vaidyaratnam P S Varier Ayurveda College, Kottakkal | 55830 | 55830 |
| Radhakisan Toshniwal Ayurved Mahavidyalaya, Akola | 55068 | 55886 |
| S C Mutha Aryangla Vaidyak Mahavidyalaya, Satara | 52431 | 56606 |
| KVTR Ayurved College, Boradi | 52946 | 56729 |
| Dayabhai Maoji Majithiya Ayurved Mahavidyalaya, Yavatmal | 56135 | 57062 |
| Vasantdada Patil Ayurvedic Medical College and Institute of Yoga, Sangli | 51022 | 57396 |
| Shri Gurudeo Ayurved College, Amravati | 54215 | 57559 |
| Vidarbha Ayurved Mahavidyalaya, Amravati | 56999 | 57904 |
| Tilak Ayurved Mahavidyalaya, Pune | 447848 | 447848 |
| Dr BRKR Government Ayurved Medical College, Hyderabad | 563645 | 563645 |
| Government Autonomous Ayurved College and Hospital, Jabalpur | 703006 | 703006 |
| Lalit Hari State Post Graduate Ayurvedic College and Hospital, Pilibhit | 830323 | 830323 |
Also Read:
Questions related to NEET
Showing 116921 out of 116921 Questions