NEET PG 2021 Preparation Tips by Dr. Nikita Nanwani, Top Educator, Unacademy
NEET PG Preparation Tips - The National Eligibility cum Entrance Test for Postgraduate (NEET PG) is conducted for admission to around 24,360 Doctor of Medicine (MD), 12,690 Master of Surgery (MS) and 922 PG Diploma seats. NEET PG 2021 was scheduled to be held on April 18, which was later postponed due to rising COVID-19 cases.
Stay up-to date with NEET News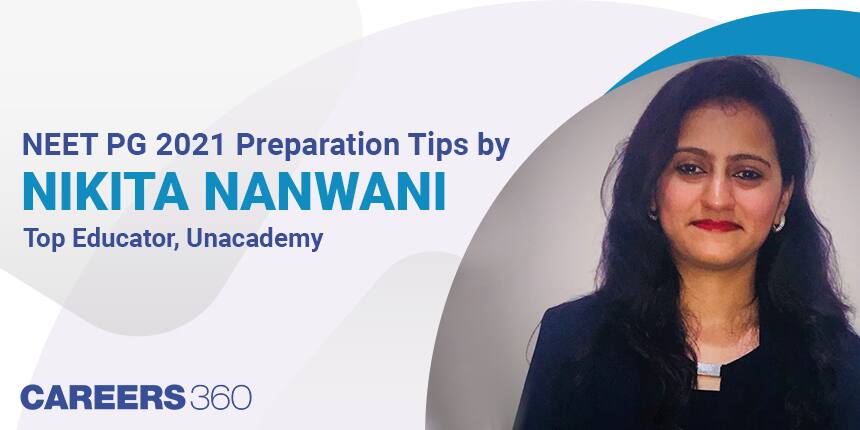 Earlier, according to the PMO, NEET PG 2021 has been postponed till August 31. Candidates will be given at least a month to prepare for NEET PG 2021. As per NEET PG expert at Unacademy, it is one of the most competitive exams, therefore, candidates should remain positive and prepare for NEET PG while waiting for the revised schedule. During NEET PG preparations 2021, aspirants must keep their mind calm regardless of the delay in the exam.
Due to chaos among the candidates about schedule and preparations, Careers360 brings an article on NEET PG preparations tips by Dr. Nikita Nanwani, Top Educator at Unacademy. In this article, the test takers can read 9 best preparation tips of NEET PG 2021 by expert Nikita Nanwani, which can help them in qualifying the exam with flying colors.
Popular Online Medicine Courses and Certifications:
NEET PG 2021 Preparation Tips by Dr. Nikita Nanwani, Unacademy
Here are some strategies for learners to keep in mind to plan and prepare for NEET PG 2021, while the exam date is uncertain:
Understand the new NEET PG paper pattern: A NEET PG aspirant's preparation would be incomplete if they do not understand the new paper pattern thoroughly. Hence, make sure you understand the structure of the question paper. Additionally, practice previous year question papers to understand the frequently asked questions. For better preparations, check the exam pattern below.
NEET PG exam pattern 2021
Particulars

Details

Mode of exam

Computer based

Language

English

Duration

3 hours 30 minutes

Number of questions to be asked

200 multiple choice questions

Marking scheme

4 marks for every correct answer

-1 mark for each wrong attempt

Total marks

800
Students also Liked:
Focus on time management: Students should be aware of how much time they spend on each topic and plan their schedule accordingly. To know the topics to be covered in the exam, candidates can refer to the NEET PG syllabus 2021. It is important to divide the time topic-wise in equal proportion. This makes it easier to complete the syllabus on time. Aspirants must ensure that they are not spending more time on any topic than required; otherwise, the NEET PG preparation process will feel endless.

Maintain one notebook per subject: As per the Nikita Nanwani, top educator at Unacademy, even if candidates are referring to multiple resources, they must ensure that to have gathered information from each one and recorded it in a single notebook. This allows them to easily revise from a single source while also increasing the efficiency of the learning process. Candidates can also refer to NEET PG best books.

Plan your day: To prepare for NEET PG 2021, students must begin with the most important chapters and, first and foremost, concentrate on areas where they are particularly weak. It is not so much about how many portions they cover, however, it is more about how rigorously aspirants cover them. Make a detailed plan for each day ahead of time.

Practice MCQs from multiple sources: Practicing MCQs from multiple sources will expose candidates to diverse questions, allowing them to better prepare for the NEET PG exam. Furthermore, practicing MCQs from various sources will help aspirants understand the paper pattern and questions that will be asked in the NEET PG.

Revise thoroughly: Revisions should be carried out daily rather than procrastinating it until the last minute. Revision of the syllabus is one of the most vital strategies for NEET PG preparation tips. Students must develop a well-thought-out strategy based on their individual strengths and weaknesses. As it is said - Believe in your efforts and follow your instincts.
Appear for mock tests: Mock tests allow you to mentally plan out your preparation. It also allows candidates to assess NEET PG 2021 preparation, learn from the mistakes, and review the syllabus prior to the actual exam. Moreover, it prepares aspirants to take the exam within the allotted time and boosts your confidence.

Do not stick to only one subject per day: Candidates can break the monotony by switching between subjects and reading them in an integrated manner throughout the day. This will aid in the consolidation of your knowledge and, as a result, accelerate your progress.
Don't succumb to the pressure: NEET PG preparation tips process can be overwhelming at times. It is important to maintain a balance of both mental and physical health. Refresh by taking short breaks, balancing the schedule, and eating healthy. During these breaks, watch or read something positive. Most importantly, do not underestimate and keep going until you achieve your goals.
Due to the unprecedented circumstances caused by the Covid-19 pandemic, there has been a continuous postponement of NEET PG 2021. As per the NEET PG preparation tips by Nikita Nanwani, top educator at Unacademy, students should utilize this time to focus more on the subjects in which they are weak and work towards improving them. Additionally, candidates should also be aware that the NEET PG 2021 tie-breaking criteria, exam pattern, and number of test centers have changed this time.
Also read:
Questions related to NEET
Showing 116781 out of 116781 Questions