How to prepare for NEET 2019: Insights on coaching and more from RK Verma
How to prepare for NEET 2019 by RK Verma - The National Eligibility cum Entrance Test (NEET) 2019 will be conducted by the NTA in less than 5 months, on May 5, 2019. Held at an All India level in a single window, NEET offers admissions to more than 90,000 MBBS and BDS seats across 700 odd medical and dental colleges and is one of India's largest entrance examinations. In NEET 2018 alone, around 12 lakh candidates competed against each other to secure admissions to the seats and institutions of their choice.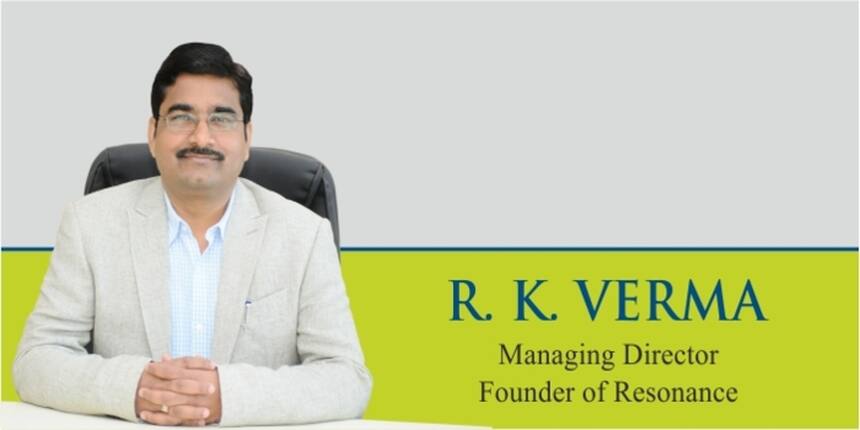 With less than 5 months remaining for the exam to be held, aspirants across the country are gearing up intensely to ensure that they are able to give their best shot by following the right preparation and coaching strategies. Careers360 spoke to Mr. RK Verma, Founder and Managing Director of the popular Resonance Coaching Institute in Kota on How to prepare for NEET 2019, to gain his insights on how best NEET aspirants can prepare for the exam in the coming months or even over the long-term with the help of coaching and otherwise.
As per Mr. Verma, it is always better if candidates can start with their preparations for NEET at the earliest. However, there are also other alternatives in terms of coaching and self-study for candidates who only have a few months of time in their hands to complete NEET preparations on How to prepare for NEET 2019.
Medical entrance aspirants can read below more of Mr. RK Verma's suggestions on how to crack NEET 2019 as part of Careers360's NEET 2019 preparation tips series, comprising tips, guidelines and strategies from experts and toppers on how to make the best preparations for the National Eligibility cum Entrance Test 2019.
 The official NEET admit card 2019 date has been fixed as April 15; aspirants can download the admit card online. A candidate will be allowed entry inside the exam venue only upon display of the admit card; NEET 2019 exam is slated to be conducted in offline mode on May 5. The result of the exam will be declared on June 5.
Excerpts from the interview below:
Q. In your opinion, when is the best time for aspirants to start attending coaching for NEET?
A. It is advisable that aspirants should start coaching for NEET, AIIMS MBBS or JIPMER examinations immediately after appearing in their Class X exams without waiting for the Class X results. Most of the good students know how they have performed in the Board Papers so they should not wait for the result and start preparations for NEET and the other exams immediately. Nowadays, serious students who are certain about taking Biology in Class XI even start their preparation for NEET from Classes IX and X itself. It gives them enough time to strengthen their basics and gain a headstart even before their other counterparts start their preparations in Class XI.
Q. Less than 6 months remain for NEET. Do you think it would be advisable for candidates to pursue NEET coaching in the last few months?
A. Normally, the classroom courses offered by Resonance as well as other prominent coaching institutes - Two year long for Class XI students and One year long for Class XII students - are sufficient for preparation and the ones normally recommended for candidates opting to go for coaching for NEET 2019. But in case candidates have been unable to join coaching classes earlier and couldn't take the benefit of the various year long courses on offer, then they should focus on their regular NEET studies or preparation as they have carried out throughout the year. In the last few months, they can enhance their preparations by joining a good All India Test Series (AITS) conducted by many coaching classes. This can be supported by joining a Short Term Course in the last month, which will help in a comprehensive final revision. 
Q. Which are the important subject-wise topics that candidates should focus on while preparing for NEET?
A. NEET is a hugely competitive exam in which the cut offs for the best colleges can be expected to go very high. For an exam like this, all the topics should be considered as equally important. Candidates should ensure they cover the entire syllabus so that they do not lose out on marks just because they considered one topic to be less important than the other. 
Q. Which are the important subject-wise books for NEET that candidates should absolutely cover at this point?
A. Candidates must make sure that they definitely cover the Class 11 and Class 12 NCERT textbooks for Physics, Chemistry and Biology. Apart from these, the NCERT Exemplar books for each subject will be very useful for revision from this point onwards. I would also recommend study materials by Resonance for candidates who have not joined any coaching.
Q. For candidates who still have a long time left to prepare for NEET, say if they are studying in Class 10, then is there any kind of coaching you would recommend them to join at this point?
A. Yes. At Resonance, there are courses planned specifically for those students who are in Class X and are sure about taking Science - Biology in Class XI. Along with focusing on Class X board & scholarship-based exams like National Talent Search Examination (NTSE), we pay special emphasis on working on the basics of Physics, Chemistry and Biology as per the needs or requirements of competitive examinations like NEET or AIIMS.
Apart from this, there are also two year long courses offered for candidates who have cleared their Class X exams. In these courses, the complete syllabus of NEET and AIIMS is covered systematically with the long time availability allowing the topics of Class XI to be covered extensively during Class XI and topics of Class XII to be extensively covered in Class XII. Ample focus is also paid to a candidate's Board exam studies and preparations during Class XII. On the whole, students who start their preparations immediately after their Class X exams without waiting for the results get much more time and a very crucial headstart when compared to the students who wait for their Class X result and then start their preparations.
Q. How to balance Class 12 and medical entrance preparations?
A. Every candidate wishes to perform well in both their Class XII Board exams as well as in NEET and other medical entrance they may be appearing for. For candidates who intend to join coaching, the best way to ensure a good performance in both is to join a Two Year Classroom Course immediately after Class X. In this course, the syllabus of NEET is divided into yearly portions for Classes XI and XII. Candidates are allowed to enhance their understanding and preparation for NEET and the other medical entrances during Class XI and balance their preparations for both Board exams and medical entrances during their Class XII. Along with NEET 2019 pattern tests, Board pattern tests are also conducted during Class XII in such courses. The Class XII topics cover almost 50% of the NEET Syllabus so a focused preparation for the Board exams also naturally results in a better performance in NEET 2019 and the other entrance exams. Since the duration of the course is two years long, candidates get ample time for revision as well.
Q. What about students who have taken a gap year after Class 12? What type of MBBS entrance coaching exists for them?
A. For students who have opted to take a gap year after Class XII to focus completely on MBBS entrance preparations, various coaching classes including Resonance offer One Year Classroom Courses. In these courses, the complete syllabus of NEET, of both Classes XI and XII, is covered over a duration of 8 to 10 months. Students who start their preparations immediately after appearing in their Class XII Boards (April onwards) get sufficient time for preparation and revision of the NEET, AIIMS and JIPMER syllabus over the course of the break year. 
Q. How can aspirants prepare in a way that it helps them in NEET, AIIMS and JIPMER entrances equally?
A. There are basically two ways in which every candidate prepares for any of the medical entrance examinations, that is either through coaching or through self-study. 
If opting for Coaching: This is the most preferred option for most medical aspirants as each of NEET, AIIMS and JIPMER are highly competitive, national-level examinations with lakhs of students appearing. It becomes easier for most students to manage their preparations with the help of dedicated coaching. It is normally seen that most students who have taken one year or two year long coaching classes from reputed coaching institutes perform better in these examinations and are able to attain the top ranks. So if a candidate has decided to go down the coaching route and wishes to make the best preparation for the NEET, AIIMS and JIPMER exams, they must ensure that they are regular in attending in their coaching classes, pay full attention in the classroom, attend maximum number of doubt classes and ask doubts fearlessly, not miss any of the periodic revision or preparation tests conducted by the institute, focus properly and with full attention on NCERT texts as well as all the study materials provided by their institute.
If opting for Self Study: If you are not joining any coaching and are confident in proceeding with self-study, then first of all, prepare a daily time table for studies and try to follow it religiously. Keep your focus on both your Board exam preparations as well as on NEET, AIIMS and JIPMER, not losing sight of one over the other. Join a good Test Series so that you are regularly updating your NEET, AIIMS and JIPMER preparations while also being able to compete with thousands of other students. After appearing for your Board exams, you can take the option of joining a short term course which will help you revise the entire syllabus in a jiffy and will also give you proper test practice before the NEET, AIIMS and JIPMER exam days.
Questions related to NEET
Showing 83667 out of 83667 Questions