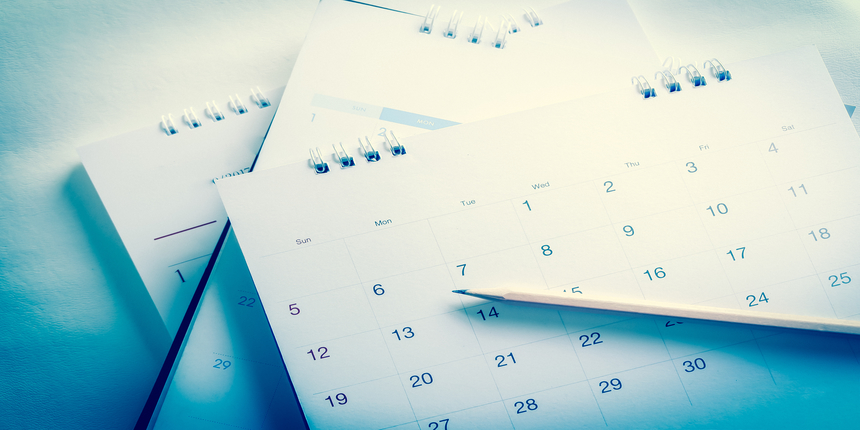 JIPMER Important Dates 2019 - JIPMER Puducherry has released the JIPMER 2019 important dates on August 8, 2018. As per the important dates of JIPMER 2019, the medical entrance exam will be held on June 2. JIPMER 2019 will be conducted by Jawaharlal Institute of Medical Education and Research, Puducherry. This article will familiarise candidates with the JIPMER important dates 2019 with which candidates can keep a track of all the relevant events pertaining to the exam. This will help candidates in preparing for JIPMER MBBS and also to avoid any last minutes hassles.
The registration process of JIPMER 2019 will start on March 6 with the release of JIPMER application form 2019. Candidates must mark the last date to fill the JIPMER 2019 application form which is April 13 as only those candidates who will register will be allowed to appear for the exam. JIPMER MBBS aspirants can check the article below to know complete details about JIPMER 2019 important dates including dates of the registration process, entrance exam, counselling etc.


JIPMER MBBS Sample Paper
Download Free Sample Paper for JIPMER MBBS
Download Now
JIPMER 2019 Important Dates
Candidates who wish to take JIPMER 2019 can check the schedule of the exam in the table given below.
Exam Activity

Date

Online registration begins

March 6, 2019 (Wednesday)

Last date to register for JIPMER 2019

April 12, 2019 (Tuesday)

Release of JIPMER admit card 2019

Third week of May 2019*

Online Entrance Exam of JIPMER 2019

June 2, 2019 (Sunday)

Publication of JIPMER Merit Lists 2019 and Result Declaration

Second week of June 2019*

Downloading of Rank Letters

Second week of June 2019*

First Counselling 

June 26 to June 28, 2019

Commencement of MBBS Classes

July 1, 2019 (Monday)

Second Counselling

July 24, 2019 (Wednesday)

Third Counselling

August 21, 2019 (Wednesday)

Final or Open Counselling

September 26, 2019 (Thursday)

Closing of JIPMER MBBS Admissions

September 30, 2019 (Monday)
*Tentative Dates
Candidates can check below the notification released by the conducting body regarding the JIPMER important dates 2019-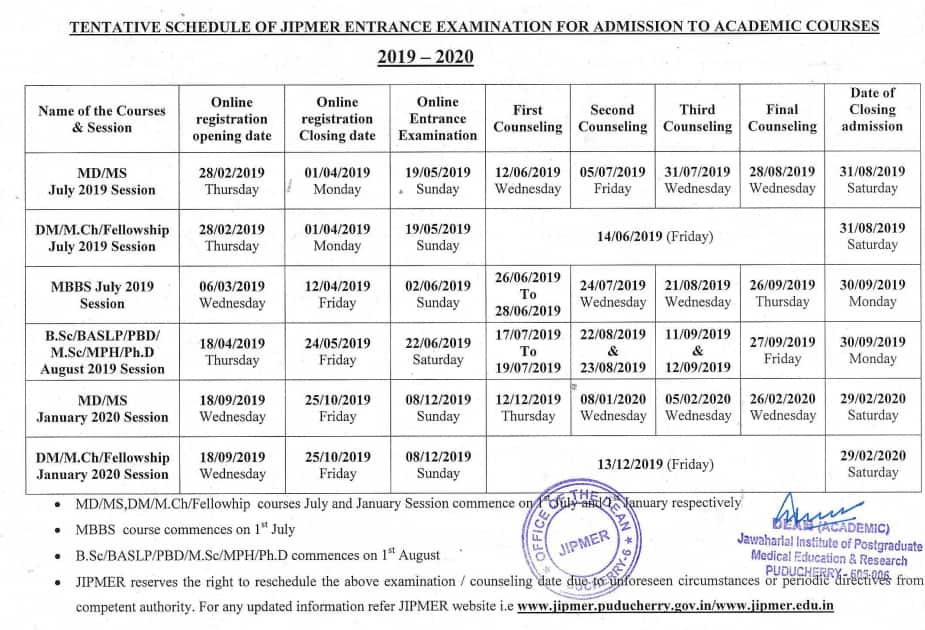 As mentioned in the image given above, JIPMER Puducherry reserves the right to change the JIPMER 2019 important dates. Rescheduling the important dates of JIPMER 2019 might be done by the regulatory body due to any official directive or unforeseen circumstances.


Aspirants of JIPMER must ensure that before filling the application form they check the JIPMER 2019 eligibility criteria. JIPMER application form 2019 must be filled by all the candidates with correct information. The conducting body reserves the right to reject the application form in case of incorrect information submitted by the candidates. No refund will be made to the candidates if the application form is rejected. 


JIPMER 2019 is a national level exam conducted for admission to MBBS course offered by JIPMER Puducherry and Karaikal. The medical entrance exam is conducted as a computer-based test and will be conducted in two shifts, morning and afternoon. The result for the entrance exam will be released most likely in the second week of June 2019 in online mode. 
Questions related to JIPMER MBBS