NEET 2020 Preparations Tips During Lockdown by Saurabh Kumar, Director Academics, Vidyamandir Classes
How to prepare for NEET 2020 during lockdown: In the midst of Coronavirus (COVID-19) lockdown for 21 days, National Testing Agency (NTA) has postponed NEET 2020 entrance exam till the last week of May. Due to lockdown across India, NEET applicants are bound to prepare for the common medical entrance test at home. The postponement of the exam can be a better opportunity for applicants to prepare for NEET 2020 during lockdown, as mentioned by Saurabh Kumar of Vidyamandir Classes. When asked about how to prepare for NEET 2020 during lockdown, Saurabh answered that students must utilise this time effectively by focusing more on weaker sections of NEET syllabus. Also advising about NEET preparations during lockdown, Vidyamandir Classes NEET expert asked aspirants to take as much mock test and previous years paper as possible.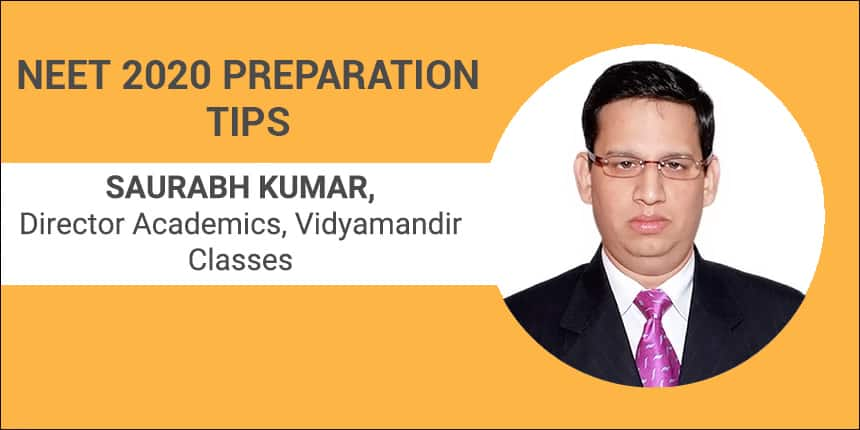 The expert has also suggested all the NEET 2020 test takers and their parents/guardians to follow the guidelines generated by the government to stay safe from COVID-19. With the help of NEET preparation tips by expert Saurabh Kumar, candidates can go through the lockdown phase and prepare well for the exam. Read the complete interview on how to prepare for NEET 2020 during lockdown by Saurabh Kumar, Director Academic, Vidyamandir Classes.
Careers360: After postponement, Will NTA consider conducting NEET 2020 in the online mode from home in effect of COVID-19?
Saurabh Kumar: No, NEET 2020 from home will not be possible because best of proctored systems cannot detect cheating and NTA cannot ensure that 15,9,452 lakh people have devices and internet at their home. Also, the new NEET 2020 dates will be announced soon, so without any tensions continue the NEET preparations 2020.
Careers360: How beneficial the idea of self isolation is for candidates while NEET preparations during lockdown?
Saurabh Kumar: As per my reviews , it is not a very good idea, but no other option is left in spite of self-isolation & self-study. Students can also continue to consult with their faculties/teachers/seniors through online medium. Also, NEET UG applicants can be a part of some WhatsApp, Telegram, Facebook, Quora and other social media platform groups for solving their queries. However, they must understand that at this point the addiction to social media groups can lead to destroying their NEET preparation strategy.
Note: NTA has also started NEET video lectures by IIT PAL which can be used for clarifying the doubts.
Careers360: How can one prepare for NEET amidst lockdown?
Saurabh Kumar: I would advise candidates to follow these tips during NEET lockdown preparations:
Students should use this time effectively and if they have weak topics then they get extra time to practice more and master on those topics. This is the best time to revise the entire syllabus of NEET 2020, which they have studied in the whole year.

Aspirants must practice using more and more NEET mock tests, previous year papers. After the completion of the test, they can analyse their answers with the solutions provided for better awareness of strengths and weaknesses. NEET sample papers with solutions can be checked here.

In the midst of this lockdown situation, students can continue their learning through concept lecture videos and online study material like youtube channel of NTA, books on various websites and more.

Make a proper timetable for 60 days of NEET preparations during lockdown and follow it rigorously. This is the time when aspirants can completely focus on NEET UG preparations while Coronavirus lockdown. The better preparation strategy during this period will help candidates to crack NEET UG 2020 with 600+ scores.
Careers360: Do you think the decision of NEET 2020 GharPeCoaching is a major loss for students preparing through coaching classes?
Saurabh Kumar: No, in my opinion, it is not a very big loss because they have already completed the NEET syllabus 2020 and it was the time to revise it thoroughly. Candidates are fortunate enough to get some extra time for NEET preparations during lockdown and postponement. They must revise the notes provided by their teachers or experts in the coaching. Take the help from the best books of NEET for Physics, Chemistry and Biology. Of course, self-motivation and self-driving is must at the moment.
Note: NEET chapter-wise weightage will be the best article for test takers to look upon during revision. They can revise keeping the weightage of each section in mind.
Careers360: Will the ongoing COVID-19 situation can create trouble in an NEET aspirant's preparation?
Saurabh Kumar: The postponement of NEET due to Coronavirus pandemic will not hamper the preparation of students who are targeting for the academic session 2020-21. However, as the schools are closed, the next session is getting delayed and if board exam dates for 2021 are not changed then this may affect the future NEET UG aspirants.
Careers360: How can NEET test takers and their parents/guardians can stay safe from Coronavirus?
Saurabh Kumar: Social distancing is the key followed by washing your hands every hour with soap for 20 seconds. Also, aspirants and their parents/guardians are advised to obey orders of state & central government issued for safe security of Indian citizens. Always use sanitizers in case one cannot use soap. Follow the Coronavirus (COVID-19) lockdown period by staying at home.
Aspirants are advised to follow these preparation strategies for NEET 2020 by expert Saurabh Kumar, Director Academics, Vidyamandir Classes to scores better marks and ranks for admission in 79428 MBBS, 26949 BDS, 52720 AYUSH and 525 BVSc & AH seats. Along with these, from the year 2020, a total of 1205 AIIMS and 200 JIPMER seats will also be granted through NEET result 2020.
Questions related to NEET
Showing 102090 out of 102090 Questions