NEET 2022 - Result (Out), Study Materials, Preparation Tips, Time Table
NEET 2022 - The National Testing Agency (NTA) conducts the National Eligibility cum Entrance Test (NEET) for MBBS, AYUSH, veterinary and nursing courses. As per the latest news, NEET 2022 exam will be conducted pn July 17, 2022. The NEET UG 2022 admit card with exam day guidelines is available at neet.nta.nic.in.
Stay up-to date with NEET News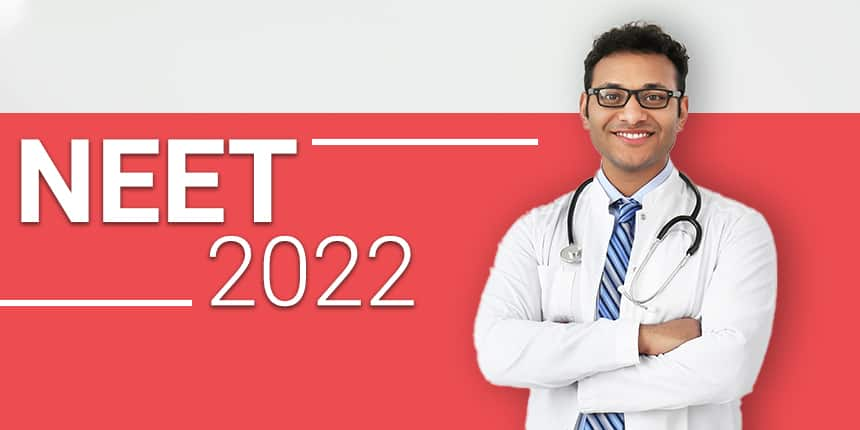 In the NEET paper, students are asked questions from Physics, Chemistry, and Biology based on class 11 and 12 syllabi. Usually, NEET is conducted annually in pen and paper mode from 2:00 PM to 5.20 PM. NTA has announced the NEET UG exam date on the official website which is July 17, 2022. Candidates fulfilling the NEET eligibility criteria needed to fill out the application form.
Every year more than 18 lakh aspirants register for NEET for admission to 90, 825 MBBS, 27,948 BDS, 52,720 AYUSH, and 603 veterinary seats along with 1,899 AIIMS MBBS and 249 JIPMER seats. "Early planning and preparation are essential to staying safe." a quote by Chris Vaccaro. So aspirants who are in class 11 or 12 and want to appear for NEET 2022 must start their preparation from now to get the desired result. NEET 2022 preparation in early days will keep aspirants one step ahead from all. Aspirants seeking more details on NEET 2022 notification, dates, eligibility, application, exam pattern, syllabus, preparation tips, timetable, etc. can read the article below.
NTA NEET 2022 latest news and updates
July 17, 2022: NEET UG 2022 exam will be conducted from 2:00 pm to 5:20 pm.
June 28, 2022: NTA has released the information on allotted exam city on the official website.
May 27: The NTA has closed the NEET 2022 application correction window today.
May 24: The NTA has opened the NEET correction window 2022. The last date to edit the details is May 27, 2022.
May 20: The last date to complete the NEET application form 2022 is today.
April 6, 2022: The NEET UG registration 2022 has started from today April 6, 2022. The NEET 2022 exam will held on July, 17, 2022
March 31, 2022: The NEET UG 2022 notification is expected to be out soon at neet.nic.in.
March 9,2022 : In accordance with the notification of the National Medical Commission (NMC) on NEET 2022 eligibility criteria, there is no upper age limit for the NEET entrance exam. The upper age limit for NEET UG 2022 eligibility criteria has been removed by the health ministry.
February 16, 2022: NEET 2022 exam date expected on any Sunday between last week of June and first week of July, as per the Times of India report. Also, the education activist and NEET expert, Dr. Amit Gupta has shared the expected NEET exam date through his tweet.
According to reports, #NEET-UG 2022 is expected to be conducted on any Sunday between last week of June and first week of July #JEE-mains aspirants to get only 2 attempts

— Dr Amit Gupta 🇮🇳 (@agupta_7) February 16, 2022
What is the scope of NEET 2022?
As it is known to all the NEET 2022 exam is the single entrance test conducted at the UG level for admission to medical, veterinary, and nursing courses. The score of NEET will be used for granting medical admission to :
15% All India Quota (AIQ) seats

85% state quota medical seats

Central and deemed universities

State, management, and NRI quota seats in private colleges

Central pool quota seats

Seats in private unaided, aided minority, and non-minority medical colleges.

Mandatory qualification for candidates willing to pursue MBBS or BDS from a foreign medical institute.
Is NEET 2022 Exam Postponed?
As per the latest update on NEET 2022, NTA has not announced any update related to exam postponement. Any update on NEET 2022 exam date or postponement will be updated here. Meanwhile, aspirants are advised to avoid any kind of rumours related to NEET 2022 postponement and track neet.nta.nic.in for any latest updates.
Aspirants searching for "When is NEET 2022 expected " must check important dates of NEET 2022 to check the schedule for the release of the application form, admit card, exam date, etc. The official schedule of NEET 2022 will be released by NTA, so aspirants have to regularly track the official website.
NEET exam schedule
| | |
| --- | --- |
| Events | Dates |
| Notification for NEET 2022 | April 06, 2022 |
| Release of NEET 2022 application form | April 06, 2022 |
| Last date to fill NEET application form | May 20, 2022 |
| Release of NEET admit card 2022 | July 12, 2022 |
| NEET 2022 exam date | July 17, 2022 |

NEET 2022 Eligibility Criteria
Aspirants who want to appear for NEET 2022, are advised to go through the eligibility criteria. The NEET 2022 eligibility criteria include minimum and maximum age requirement, educational requirement, subjects studied in the qualifying exam, status of the qualifying exam, category, and nationality. Aspirants can go through the below-mentioned requirements, which are mandatory for aspirants to be eligible for NEET.
Minimum age requirement: Candidates who want to appear for NEET 2022 must have completed a minimum of 17 years of age at the time of admission as of 31 December 2022.

Nationality: As per the NEET 2022 eligibility criteria, aspirants have to be Indian Nationals, Non-Resident Indians (NRIs), Overseas Citizen of India (OCI), Persons with Indian Origin (PIO), or Foreign Nationals.

Educational qualifications: Candidates who have either completed or are appearing in 10+2 or equivalent are eligible to appear in NEET-UG 2022.

Subjects studied: To apply for NEET 2022 exam, aspirants will have to study physics, chemistry, Biology/Biotechnology, and English as core subjects from a recognized board.

Minimum marks required in qualifying exam: Candidates must secure at least 50% marks in physics, chemistry, and biology combined in the 10+2 qualifying exam. For SC, ST, OBC-NCL category candidates the minimum marks required are 40%.
NEET Application Form 2022
NTA released the NEET form 2022 along with the information bulletin on its official website, neet.nta.nic.in. The last date to fill the NEET application form 2022 was May 20, 2022. The filling of the NEET application form 2022 was a 5-step process, which can be checked below. However, before filling the NEET 2022 application candidates were advised to check the list of documents and details to keep handy.
Documents/details required for NEET application form
Identity card: IDs such as Aadhaar card, ration card, bank account passbook, passport, or any other government photo ID card.

Personal details: Personal and communication details such as candidate and parents name, date of birth, permanent and corresponding address, active email ID, and mobile number.

Images: Scanned images of recent passport size photograph, postcard size photograph, signature, and left thumb impression.
Steps to fill the NEET application form 2022
NEET 2022 registration

Filing of application form

Uploading of images

Payment of application fee

Print NEET application form
NEET 2022 exam pattern
One of the prerequisites before appearing for the NEET exam is to be familiar with the NEET exam pattern 2022. NEET UG exam is conducted in offline mode that is pen and paper mode. The exam is divided into 3 sections - physics, chemistry, and biology. Check the table below to know details about the NEET exam pattern such as duration of the exam, nature of questions asked, number of questions asked from each section, weightage of marks from each section, and the marking scheme.
NEET 2022 exam pattern
Particulars

Details

Mode of exam

Offline

Duration of exam

3.20 hours

Total number of questions

200 questions out of which candidates have to attend 180

Total marks

720 marks

Sections

3 sections - Physics, Chemistry, Biology

Physics

Number of questions

35 + 15 questions

Sectional marks

180 marks

Chemistry

Number of questions

35 + 15 questions

Sectional marks

180 marks

Biology

Number of questions

100 questions

Sectional marks

360 marks

Marking scheme

+4 marks for a correct answer

-1 marks for an incorrect answer

0 marks for an unattempted answer
As it is clear by Health Ministry that the syllabus of NEET will remain unchanged. So, the syllabus for NEET exam 2022 will be based on class 11 and 12-course curriculum of 3 subjects - Physics, Chemistry, and Biology. Knowing the NEET 2022 syllabus thoroughly will help a lot before starting the NEET preparation. Aspirants can go through the Subject-wise important topics based on the NEET-UG syllabus 2022 as constituted by the NMC are discussed in the table below.
Class

Important topics

Physics topics class XI

Physical-world and measurement

Kinematics

Laws of Motion

Work, Energy, and Power

Motion of System of Particles and Rigid Body

Gravitation

Properties of Bulk Matter

Thermodynamics

Behaviour of Perfect Gas and Kinetic Theory

Oscillations and Waves

Physics topics class XII

Electrostatics

Current Electricity

Magnetic Effects of Current and Magnetism

Electromagnetic Induction and Alternating Currents

Electromagnetic Waves

Optics

Dual Nature of Matter and Radiation

Atoms and Nuclei

Electronic Devices
NEET 2022 syllabus for Chemistry
Class

Important topics

Chemistry topics class XI

Some Basic Concepts of Chemistry

Structure of Atom

Classification of Elements and Periodicity in Properties

Chemical Bonding and Molecular Structure

States of Matter: Gases and Liquids

Thermodynamics

Equilibrium

Redox Reactions

Hydrogen

S-Block Element

P-Block Elements

Organic Chemistry-

Hydrocarbons

Chemistry topics class XII

Solid State

Solutions

Electrochemistry

Chemical Kinetics

Surface Chemistry

General Principles and Processes of Isolation of Elements

P- Block Elements

D and F Block Elements

Coordination Compounds

Haloalkanes and Haloarenes

Alcohols, Phenols, and Ethers

Aldehydes, Ketones and Carboxylic Acids

Organic Compounds Containing Nitrogen

Biomolecules

Polymers
Class

Important topics

Biology topics class XI

Diversity in Living World

Structural Organisation in Animals and Plants

Cell Structure and Function

Plant Physiology

Human physiology

Biology topics class XII

Reproduction

Genetics and Evolution

Biology and Human Welfare

Biotechnology and Its Applications

Ecology and environment
Referring to the best possible books that can help aspirants to crack the NEET is very important during the preparation stage. NCERT is the most important book for NEET but adding some reference books for study will boost up the level of NEET 2022 preparation. Aspirants should take care that the study material of NEET 2022 should be helpful in clearing the basic concepts and topics and it should also help you to devise a strategy to solve questions quickly. Candidates can check the list of NEET books here.
Physics
Concepts of Physics by H. C. Verma

Objective Physics by DC Pandey

Fundamentals of Physics by Halliday, Resnick, and Walker

Fundamental Physics by Pradeep

Problems in General Physics by IE Irodov

Physical Chemistry by OP Tandon
Chemistry
ABC of Chemistry for Classes 11 and 12 by Modern

Concise Inorganic Chemistry by JD Lee

Dinesh Chemistry Guide

Practise books by VK Jaiswal (Inorganic), MS Chauhan (Organic) and N Awasthi (Physical)
Biology
Biology Vol 1 and Vol 2 by Trueman

Objective Biology by Dinesh

Objective Botany by Ansari

Pradeep Guide on Biology

GRB Bathla publications for Biology
Begin with Biology and one other subject simultaneously. Start studying the strongest topics with the most weightage. This way you will cover more topics in less time.

Read NCERT line by line. Mark important facts with a highlighter and make notes simultaneously. After completing NCERT, start reading extra study material available in the form of books, and preparation websites. Also, make notes from these references.

For Biology, learn diagrams by heart to understand a topic. Pictures help you retain the information more effectively. Diagrams are an important factor for NEET 2022 preparation.

For physics, solve as many questions as you can. Additionally, create a chapter-wise formula sheet that comprises all formulas and laws discussed in the chapter.

For chemistry, learn diagrams and chemical equations by heart. After completing every chapter, create a sheet for chemical equations and formulas to be used in solving the questions.
NEET 2022 timetable
Making a study plan or timetable is easy but its execution is what requires strength for NEET 2022 preparation. Know your most effective hours and start your NEET 2022 preparation in those hours. In order to prepare for NEET 2022, aspirants can follow the below-mentioned timetable which is prepared by the Subject Matter Expert.
Divide the day into 4 parts for NEET 2022 preparation.
Session 1: 3 - 3.5 hours
This session should be of Physics and Chemistry subject

Theory, Sums, Formulae everything should be given equal importance

Do not read the entire chapter at once

Solve it subject topic wise

Make notes as and when required
Session 2: 2 hours
This session should be of Botany or Zoology

Theory and questions both should be done

Refer to two books for theory

One is NCERT and other books can be Trueman or Pradeep's

Make useful notes
Session 3: 3 hours
Repeat the questions of session 1

Try to solve more questions related to the topic you have studied
Session 4: 2 hours
Again go for Biology

Keep this session light

Read NCERT

Plan for the next day
Frequently Asked Question (FAQs) - NEET 2022 - Result (Out), Study Materials, Preparation Tips, Time Table
Question: How to prepare for NEET 2022?
Answer:
Aspirants have to do constant preparation from now itself.
Question: Will NEET 2022 syllabus be reduced?
Answer:
No, NTA has not released any notification related to NEET 2022 syllabus reduction.
Question: Will NEET 2022 be conducted twice in online mode?
Answer:
No, NEET 2022 will be conducted once in offline mode.
Question: When NEET 2022 will be held?
Answer:
NEET 2022 exam date is July 17.
Question: When registration for NEET 2022 will start?
Answer:
Registrations for NEET UG 2022 have been closed. The authority will soon issue the NEET hall ticket 2022.
Questions related to NEET
Showing 84113 out of 84113 Questions