Increasing demand for online healthcare sector
The increasing demand for quality healthcare products and services and growing consumer preference for online shopping is creating a huge market with innumerable job opportunities in India. There is a huge demand for professionals in this sector. Careers360 tells you about the growth in the sector in near future. Read on to know more.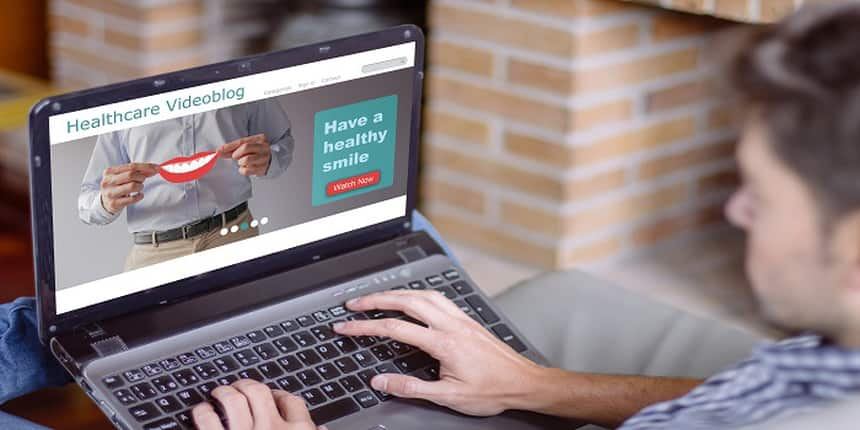 Are you a person willing to take challenges, solve genuine problems, make a paradigm shift in the way healthcare is practiced and delivered? If the answer is 'yes', you are the best fit for online healthcare industry. Though the online healthcare products market in India is at a nascent stage, it is growing exponentially as more and more people go for online shopping.
Sectoral overview
According to India Brand Equity Foundation, a knowledge centre established by the Government of India, healthcare has become one of the largest sectors in the country - both in terms of revenue and employment. It is growing at a brisk pace due to its strengthening coverage, services and increasing expenditure by the public as well as private players. The sector comprises hospitals, health insurance, medical equipment, medical devices, telemedicine, medical tourism and online services.
As per Deloitte, Indian healthcare market at present is worth around US$ 100 billion and is expected to grow at a CAGR of 23 percent to US$ 280 billion by 2020. The healthcare Information Technology (IT) market is valued at US$ 1 billion (April 2016) and is expected to grow by 1.5 times by 2020. The whole segment can be considered as an entity as a number of companies from various profiles are offering their services online, like doctors consultancy, medicine delivery, counseling, diagnostics, etc.
Prashant Tandon, co-founder & CEO, 1mg, an online provider of medicines and related products, said, "This exponential growth is supported by broader and deeper penetration of Internet and smartphones. With an increasingly high number of Indians gaining access to the digital platform, the digital technology is going to be the next big thing in the healthcare sector."
Growth of online healthcare
The online sale of healthcare products and services grew exponentially from Rs. 77.1 crores in 2012 to Rs. 5,07.5 crores in 2016. In line with the industry revenues, the average individual order size also increased well and has been registered at Rs. 1,762, states a report by McKinsey & Company. Seeing its promising future a large number of online players have entered the online healthcare product segment.
While healthcare delivery is the most visible aspect of this industry, there is a clear surge in innovation in India across other areas like Pharma, Medical Devices, Diagnostic and Therapeutic technologies. This innovation spans large companies as well as startups.
With new companies coming up in the segment, the product range offered by the companies is going to increase and customers will have different options. Zoya Brar, MD, Founder, Core Diagnostics, says, "Online healthcare sector is growing along three key vectors. First, it is the availability of information, goods, and services. Next, it is the internal functions of healthcare providers, going online. Finally, it is the delivery of services online, such as tele-consultation, tele-radiology, tele-pathology, etc. The major players are in a race to increase their share in the industry by implementing various marketing initiatives, technology advancements, switching to different business models and others."
Huge demand for professionals
Dr. Dhaval Shah, Founder of PharmEasy, a pharmacy aggregator, says online healthcare segment, particularly the online delivery of medicines, offers a slew of opportunities to young graduates. "We would be aiming at 5% of the entire pharmaceutical industry over the next 2–3 years. Even if we hit 5 percent of the entire industry we are looking at around US$ 1 billion. Presently, all online pharmacies together employ more than 5,000 people across the country and we have just started. The industry will need at least 10 times the current number, if not more, going ahead with the expansion plans in place."
For a young professional, it is pertinent to get more exposure, meaningful work and also make a dent in the industry if possible. Young professionals generally don't get to do either of the three in their early jobs. This is because mature industries do not have the agility and the potential to give all the three. With the online healthcare industry being in the nascent hyper growth stage, getting exposure to all the three is possible, thus making it one of the most sought after sectors currently.
By 2020, the sector is expected to employ 7.4 million people driven by the demographic shift in India that is causing an increased disease burden in areas like oncology, cardiology, neuropsychological and neurodegenerative illnesses. The increase in infectious diseases like swine flu, chikungunya and dengue adds to this burden. Diagnostics, the major segment, has picked up fast and the top players in the diagnostic industry are expected to generate about 10,000 new jobs by 2020 and the other local players put together will generate about 20,000 jobs across the country.
HR requirements
Candidates from technical background fetch the maximum jobs as online healthcare heavily relies on technology. However, those who are from non-technical background also have a lot of opportunities. Some of the popular profiles required by the sector are website maintenance or database handling, algorithm design, digital marketing, demand estimation, operations and supply chain, category management and Business development. Some of the other key roles include SEO, PPC, content marketing, content writing, customer relationship building.
Candidates with engineering or management degree have an edge in this field. There is no specific requirement of prior exposure or training for entry-level positions, but having one adds value to one's profile. For mid-level positions, a good understanding of electronic funds transfer, mobile commerce, transaction processing, supply chain management and electronic data interchange helps in a big way.
"As professionals, judging an industry by the average remuneration is not the perfect benchmark. I would push professionals to judge the industry by the work you get and the growth that the person can bring to his or her career.
In terms of profiles – technology is something that the industry can benefit from. Healthcare access and affordability in India cannot be done without the use of technology. Hence, folks who want to solve genuine problems, make a paradigm shift in the way healthcare is practised in the country and those who have some real fire in the belly would be the best match for this phenomenal industry that we all love so much," concludes Dr. Shah.
Consolidation phase
The sector has matured a lot in the past few years and it is no longer only about drawing customers by giving discounts. They are being pushed by investors to look at creating healthy business models. Though online medicines look like a promising trend today, the business is challenged by regulatory issues. at present, there are no dedicated online pharmacy laws in India.
The centre and State governments have realised it and are working in this area so that only serious players enter here. Maharashtra Food and Drug Administration investigated a few e-commerce companies this year for selling prescription drugs without proper licence. It is also becoming clear that the growth and sustainability of online healthcare business will depend on how they manage to fit themselves in the legal framework.
As for regulators also managing and controlling online licensed e-tailers will be more feasible than hundreds of thousands of small shops. all this will only help the aspirants who aspire to make a career in this more organised field.
The union Government has announced to formulate a framework for online sales of medicines to define the role, responsibilities and liabilities of e-commerce marketplace and the product sellers. A nodal agency has been appointed by the Drug Controller General of India (DCGI) for consolidating the guidelines.
Popular job profiles:
Website maintenance

Database handling

Algorithm design

Digital marketing

Demand estimation

Operations and supply chain

Category management

Business development
COLUMN:
Prashant Tandon,
Co-founder
& CEO, 1mg
The sector makes tangible impact on lives of people
Careers360: What is the impact of online services on the healthcare sector?
Prashant: Healthcare suffers deep structural inefficiencies and opaqueness in spite of being one of the largest industries in India. The consumers pay for almost 70–80% of the healthcare spends in India, yet are alienated by service providers who earn disproportionately high margins for commodity services. This has thrown up opportunities to make a disruptive business that meaningfully impacts both costs and quality of healthcare. According to a report titled 'India's New Opportunities- 2020' over 40 million new jobs are expected to be generated by 2020.
Careers360: Why should a young graduate join this sector?
Prashant: This is an evergreen, high growth sector, with significant demand-supply imbalance. Hence, there is a unique combination or stability as well as new skill development and new opportunities. The impact of works is very high, with clear, tangible and meaningful impact on people's lives. There are multiple avenues of skill development & specialization.
Careers360: What sort of profiles do potential employers look for?
Prashant: There are multiple profiles searched, most common being technology, medical data, healthcare affairs, operations, strategic partnerships, public health initiatives, marketing & Sales. Remuneration varies depending on the potential.
Stay tuned to medicine.careers360.com for more articles and interviews