NEET 2017: New rules on capping age, limiting attempts unfair, say MBBS aspirants
Nearly a year after its stormy introduction, new eligibility criteria for National Eligibility cum Entrance Test (NEET) 2017 which caps the number of attempts and puts an upper age limit for the national level medical entrance test has once again sparked controversy with many MBBS/BDS aspirants protesting against the newly introduced rules.

Related Post -
NEET 2019
NEET Eligibility Criteria 2019
NEET Application Form 2019
NEET Admit Card 2019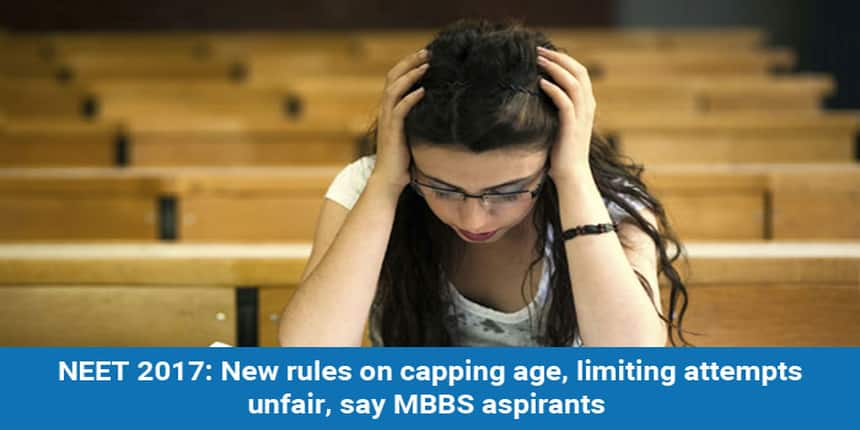 Dated January 31, 2017, the NEET 2017 notification released by CBSE reads, "The upper age limit of the candidates appearing for NEET 2017 has been fixed at 25 years on the date of conduct of examination in which five year relaxation has been given to the reserved category candidates." Along with this ruling on age limit, there has also been a change introduced in the number of maximum attempts available to a candidate. "There shall be three attempts available uniformly for all the candidates in NEET examination," declares the notification, adding that any previous attempt in NEET or AIPMT will count here.
While these words may appear similar at first glance to countless other rules introduced by educational bodies from time to time, the repercussions that they hold threaten to be far graver. What these two new regulations mean is that several thousand aspirants who had been making preparations to appear for NEET 2017, but had crossed the age of 25 or had already attempted AIPMT/NEET thrice, have now been left in the lurch. Simply put, they will not be able to appear for this year's examination.
The main issue of contention here is that these regulations have come out of nowhere, with now ineligible candidates fretting over the many months they spent in preparation only to now be debarred by what seems like an arbitrary and hastily introduced rule.
Until now, the only existing age-related clause for the NEET exam was regarding the upper age limit cap of 25 years (30 years for reserved categories), applicable to 15% All India quota seats only. This new decision has unsurprisingly evoked unrest among many candidates who have now been made ineligible straightaway for admissions to all MBBS and BDS seats in the country from the 2017-18 academic year onwards.
NEET: A controversy-ridden beginning
NEET was first introduced as a common entrance test by a ruling of the Supreme Court in 2013, to end the existence of multiple medical entrance examinations and bring the process of admission to all MBBS and BDS seats in the country under the same umbrella. The intention was to make the entire process transparent and free from the frequent complaints of corruption against state-run medical colleges. After numerous petitions were filed against the idea, the Supreme Court had to revoke its order and declare NEET illegal and unconstitutional.
In 2016 however, NEET was reintroduced by the Supreme Court and it completely replaced the All India Pre Medical Test (AIPMT) as well as the state and institute level entrance examinations. The Centre had to belatedly give state-run institutions a one-time exception to assuage them on their sudden elimination from the medical admission process. Organized by the CBSE and based upon the NCERT syllabus, NEET also came under heavy criticism for being unfair on students from state boards or rural areas where the standards of education weren't so high.
With controversy brewing over the new provisions sprung upon the unsupecting candidates this year, NEET 2017 seems destined to grab the headlines like its predecessor. Careers360 looks into the possible impact these new rules may have on the future of numerous medical aspirants across the country.
Eleventh hour decision disqualifies many candidates
As expected, many aspirants who are above the newly introduced upper age limit and have exhausted their three attempts are dejected by the new eligibility criteria. Siddharth Munda, a medical aspirant from Jharkhand, who is now barred because of upper age limit from appearing in NEET 2017 says, "I have been preparing for NEET for the past two years. I did not appear last year as I felt my preparation was not thorough and was eyeing the 2017 attempt." He further added, "This new declaration has shattered my dream of becoming a doctor."
A parent of another NEET aspirant, Mr. Mahesh Kumar, was also taken aback by the CBSE's sudden decision. Pointing out how this late announcement of limiting the number of attempts may result in complete wastage of a full year's preparation by his daughter, Mr Kumar said, "Since my daughter has already taken three attempts earlier, she will not be able to appear this year now. This will not only traumatize her but also mean a financial loss for my family." He further shared, "My daughter was taking coaching from April 2016 after having already used up her three attempts. And suddenly, she is ineligible to take NEET? I had to sell a piece of my land to pay her coaching fees. Now, this decision has ruined everything. What will I do now?"
New restrictions applicable on state quota & private institutions too
Admissions to MBBS and BDS seats at all the medical institutions across the country, including private, central and deemed universities (and excluding AIIMS and JIPMER) will now be based on NEET 2017 scores only. Also, NEET eligibility criteria will be the same for all, whether admission is sought under All India Quota, state quote or in private institutions. This leaves candidates with absolutely no alternative to pursue their ambitions in the medical field if they have crossed 25 years of age as announced by CBSE officials for NEET 2017. Every aspirant seeking admission anywhere in India will now have to meet NEET criteria on age limit.
"Earlier, there was no limit on age or on the number of attempts students could make for state quota seats. Why has it changed suddenly?" enquired Raunak Baithwal, a concerned aspirant from Bihar. Dheeraj Kumar, a coaching expert believes that this announcement should have been made at the beginning of the academic year. "Even if there is some compelling logic behind implementing these regulations, this should have have been announced much earlier. It would have saved so many students from the mammoth effort and time consumption that goes into preparing for an exam like NEET," he opined.
How the decision hampers careers
The intentions behind introducing NEET may have been noble but when an education system does not guarantee access to quality education to every aspirant irrespective of economic situation or area of residence, and further burdens them with sudden restrictions after they have already made tremendous sacrifices, then it can only be looked at as a negative force unnecessarily hampering the prospects and career ambitions of numerous students. Restricting the number of attempts and bringing age caps significantly handicaps those students who are not familiar with the syllabus or have not received quality medical coaching until much later in life.
Anant Sinha, another aspirant who is now barred from appearing in NEET 2017 thanks to the new rules, reveals how he had been dropping year after year just to get admission into a government college as the fees charged by private colleges were beyond his reach. "Do we deserve to get into this sort of situation just because our family cannot afford expensive coaching classes? We dreamt big. How can our rights be taken away just like that?" he protests.
In light of the universally negative response to the new NEET eligibility criteria 2017, Careers360 urges the CBSE as well as the Medical Council of India to roll back these controversial regulations for this year at least. These restrictions and cap may be made applicable from the 2018-19 academic session onwards simply so that students who have been preparing for NEET 2017 for a long time do not see their efforts go in vain.
Stay tuned to www.medicine.careers360.com for more information on NEET 2017!
Questions related to NEET
Showing 83596 out of 83597 Questions